Posted:
Marzo 18th, 2017 |
Author:
admin
|
Filed under:
Psicologia dell' Emergenza
|
No Comments »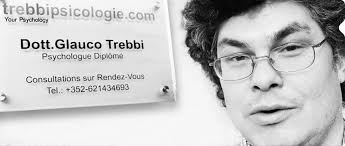 Welcome to trebbipsicologie.com
My name is Dott. Glauco Trebbi, Psychologist and Psychotherapist based in Luxembourg.
The appearance of psychological discomfort must be listened to, prevention and treatment in case of: Anxiety, Depression, Addictions, Grief and loss, Trauma, Sexual problems, Couple conflicts, Stress and conflicts at work, Sleep disorders, Eating disorders, Behavioral disorder, Aggressive/violent behavior, Cognitive disorders, School disorders, within the framework of a cognitive-behavioral therapeutic approach (CBT).
BOOK APPOINTMENT HERE ON DOCTENA
Info Tél : +352 621 434 693
Email: trebbipsicologie@gmail.com
Reception in LIMPERTSBERG and BONNEVOIE. Click on "select a reason to visit" and choose the available slot in green on the corresponding calendar. Fill in your data to make an appointment.
Target audience: Adults, Families (Italian minors from 8 years old).
The cost of a psychotherapy session is 151.29 euros of which the CNS reimburses 70%. Children under 18 are fully reimbursed by the CNS. It is necessary to obtain a medical prescription for psychotherapy within the first three sessions.
For more details, please contact me by phone.
Languages: Italian, French, German, English.
I receive in LIPERTSBERG, at THERAPLUS, 3 rue Lamartine L-1914, Luxembourg.
I receive in BONNEVOIE, at 48 rue Felix de Blochausen L-1243, Luxembourg.
Please consult the Doctena calendar, click on "select a reason to visit", for each day will appear the availability that you can book for an appointment in LIMPERTSBERG or BONNEVOIE.
Kind regards,
Dott. Glauco Trebbi
---